The highly successful Harvard ManageMentor leadership & management skills development program for SME's supported by Enterprise Dynamics is now running for the fifth year. The participating companies and their learners are absolutely delighted with this incredible year-long program and the value that it offers! Here for instance is unsolicited feedback from three of our learners:
"I must tell you that I am LOVING the course!! I miss studying, learning. I was getting ready to do another course when this came up and it is brilliant.".

"Harvard ManageMentor has helped me grow as a person and have better understanding of the world around me (both professional and personal). It has provided me with tools, tips and living documents that I have implemented in my personal & working life. The learnings have helped me put together a comprehensive personal/professional development plan that I can adapt and work towards in the coming years. I am truly grateful to be able to be part of this course".

"This is by far the best learning programme I have ever had the privilege of participating in".
It is really a no-brainer if you are looking to develop leadership and management skills in your company and increase the effectiveness and efficiencies of employees in the workplace. The number one education brand in the world, best global experts, latest design and most effective learning methodology, best content, updated every month, at the best price! Only R10,850 (ex VAT) per learner for a whole year access to all 42 courses! (R11,850 outside SA).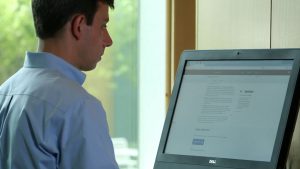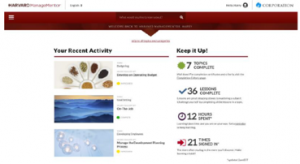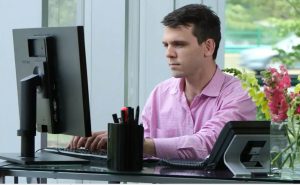 We invite all SME companies in Africa to join for the amazing opportunity. What we offer is absolutely unique- a complete Harvard Corporate Learning training solution aimed at SME companies consisting of a suite of 42 online leadership and management courses called Harvard ManageMentor. Courses cover all the core topics in the categories Leading yourself, Leading others, and Leading the business. It is the best quality and most reputable corporate education brand (Harvard) in the world, at the lowest price you can imagine.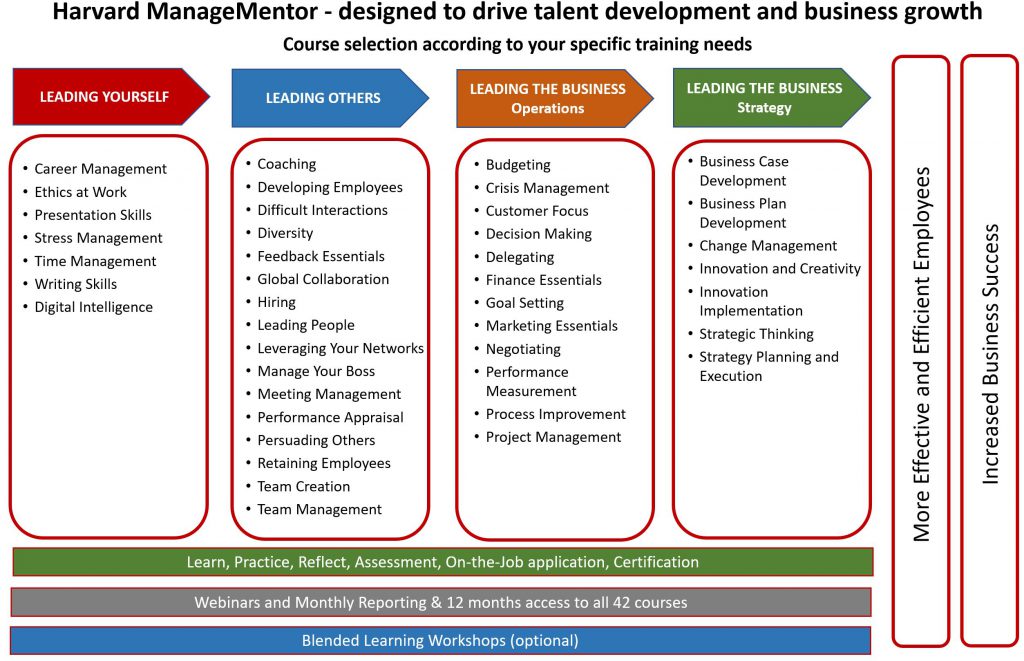 But companies who participate receive more than just buying access for their employees to the content! They get a fully managed learning solution from Enterprise Dynamics, which include:
Effective development of your team who learn practical implementable skills at very affordable rates.
The opportunity for nominated employees to enroll for a whole year, and have access to all 42 courses.
A Webinar on launch to introduce the program to all learners, and further webinars throughout the program.
A monthly report to you on all enrolled students' progress.
Learner support provided by a success coach to all learners.
Blended learning material (slides and facilitator guide) where needed.
Attendance of workshop sessions for employees for selected modules (optional).
And what do enrolled employees get?
The best education with content fueled by the latest in thinking and proven practices. Articles are updated monthly!
Extensive support material (including videos, infographics, articles, worksheets, checklists and podcasts).
The opportunity to collaborate with peers also enrolled on the program.
Learner support from a success coach.
Valuable new insights and new skills.
A Harvard ManageMentor certificate reflecting each course successfully completed.
The big problem is that online on-demand education has extremely low completion rates if students work on their own initiative, without assistance and supervision. The managed solution of Enterprise Dynamics takes care of this problem thereby ensuring high student engagement with very high completion rates. So the solution is not only extremely affordable for SME's, but also highly effective.
You are welcome to make contact at kosie@enterprise-dynamics.co.za or +27-82-449-9097 for more information or a personal discussion. If you elect to participate please download the learner enrollment form here, and return the completed form with the list of selected learners.  Access for all students opened  on 1 May 2022 for a 12-month period until 29 April 2023, but you can still join us now at any time. .
We look forward to your enrollments and supporting your learners on this exciting learning journey!